Family succession at BEHRINGER
On December 31, 2022, Rolf Behringer will retire from the management. He will be succeeded by his son Andreas Behringer.
On January 01, 2023, Rolf Behringer (68) will hand over his executive duties to his son Andreas Behringer (31). He will then manage the company as second managing director together with Christian Behringer (54). Behringer GmbH has thus set the course for the future.
Retirement of Rolf Behringer after 44 years of commitment to the family business
Rolf Behringer took over the management from his father Willy Behringer in 1988. He was mainly responsible for purchasing and the commercial areas in the company. During this time, the company also made the transition from a workshop to a steadily growing and internationally active industrial company. Since 2000, he has managed the company together with his cousin Christian Behringer, who is responsible for technology, sales and marketing. Rolf Behringer will step down from operational management as of December 31, 2022, but will continue to be available as a shareholder in an advisory role.
Andreas Behringer is the fourth generation to join the management team. After graduating from high school and spending a year abroad, he studied international management in Mannheim until 2015. Andreas Behringer started his professional career as a project manager at a service and consulting company near Frankfurt. Over a period of four years, he gained insights into a wide variety of industries and corporations in Germany. In 2020, he joined the family business.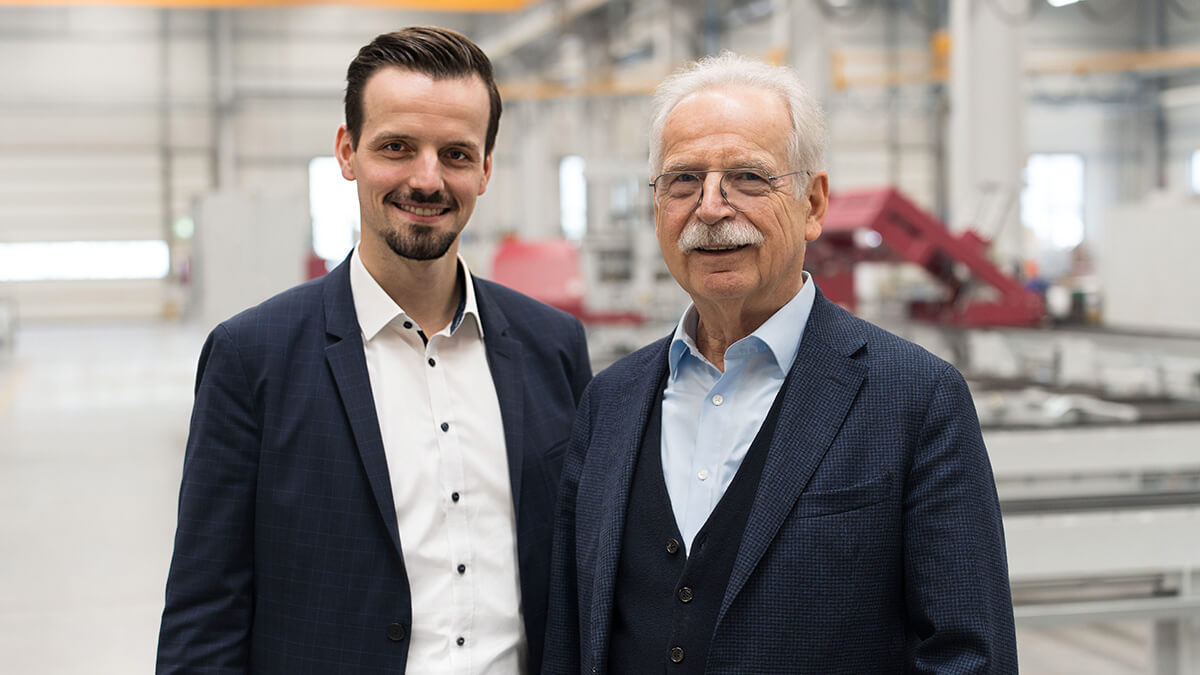 The history of BEHRINGER
The family business BEHRINGER was founded 103 years ago in Kirchardt by August Behringer, the grandfather of the managing directors Rolf and Christian Behringer. At that time still as a mechanical workshop, the production of hacksaws began after the Second World War. With the development of the column-guided band saw, the international success and growth of the company began. Today, the company presents itself as a full-range supplier of sawing technology and equipment for sheet metal and profile processing and operates its own iron foundry. The customer base extends across the entire metalworking industry.
Sustainability projects and market competitiveness on the agenda
In the coming years, Andreas Behringer will focus primarily on HR issues in the company. In times of strong change and many transformation processes, employees are the strongest resource for a company. This is the prerequisite for innovation and competitiveness on the world market.
"I am convinced that our future success will depend even more than before on the people who decide to join our family business," says Andreas Behringer.
As part of the company's own energy management system, Andreas Behringer will increasingly devote himself to projects on sustainability and conserving resources. "We have already installed several photovoltaic systems, converted to LED lighting and use waste heat for heating. However, there is still plenty of potential in terms of reducing our energy requirements and resource efficiency," emphasizes Andreas Behringer. Working and acting efficiently and responsibly improves the company's ecological footprint and thus its impact on the environment. This is our responsibility and our ambition.
"My goal is to lead our company into a successful and at the same time sustainable future. By focusing on people and necessary investments, we can ensure that our family business will continue to prosper for many years to come, offering attractive activities and jobs for generations to come," he concludes, explaining his goals as the future CEO.
Back